News
CAN Honors Pioneer Award Winners in Vegas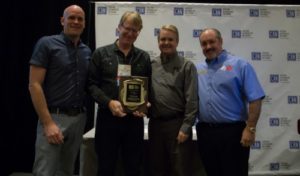 Custom Automotive Network (CAN) honored its 2018 Pioneer Award recipients-Rick Kovalick and Trent Lowe-at its Oct. 31 General Membership Meeting in Las Vegas. Plaques were presented to Kovalick and Lowe by the 2017 Pioneer Award winner, Ken Woomer of Competition Specialties.
The Pioneer Award recognizes outstanding contributions to the custom automotive distribution system and in appreciation of conscientious dedication to the industry, according to CAN. The award is nominated by CAN membership and voted on by a committee composed of former Pioneer Award winners. Kovalick and Lowe joined 52 others who have won the award since 1981.
Kovalick is the current CRO and vice president at National Performance Warehouse (NPW). His career began in retail and installer sales in 1971, before he established and led a professional purchasing and marketing team for more than 25 years. Kovalick has long been involved in industry organizations and events.  He has served on various panels, committees for CAN and the SEMA Board of Directors.
Lowe is the former president of Time Automotive Distributors located in Salt Lake City and Boise, Idaho. He was introduced to Time Distributors a mid 1960s spinoff of the family Pontiac-Cadillac dealership, during spring break. He completed his degree, landed a job buying for them, and in 1990 bought other family members' shares to become president of Time Automotive Distributors.
Time Automotive Distributors was acquired by National Performance Warehouse in August of 2015. Lowe retired from NPW in June of 2016. Lowe spent 17 years serving as a director and treasurer of the PWA/CAN Board of Directors.
Custom Automotive Network was founded in 1970 as Performance Warehouse Association. The association's mission is to assist the custom automotive industry in efforts to expand, maintain and promote the profitable distribution of custom automotive products through the manufacturer, distributor, retailer, and consumer channel. The trade association consists of about 500 member companies joined together to deal with management, financial and legislative matters.
Visit customautomotivenetwork.com or call 760-346-5647 for more information.