News
California Sheriff Raids Indiana Auto Shop Over Batmobile Replica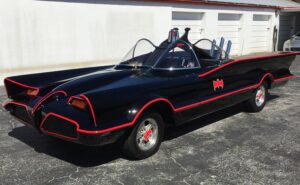 The San Mateo County, California Sheriff's Office recently raided Fiberglass Freaks, a Logansport, Indiana, builder of licensed replica Batmobiles, over a business dispute, according to Motorious.
Citing a report by ABC7 News Bay Area, a California real estate agent, Sam Anagnostou, was upset over the delayed delivery of a $210,000 replica 1966 Batmobile he ordered and filed a complaint with the local sheriff, with whom Anagnostou is reported to have a personal relationship.
According to Mark Racop, owner of Fiberglass Freaks, Anagnostou missed a $20,000 payment and stopped communicating with the shop for over eight months.
In July, four members of the San Mateo County Sheriff's Office traveled across the country and raided the Indiana shop, taking two files of documents but leaving the car.
Click here to read the full story on Motorious, or to watch the original report from ABC7 Bay Area.