News
Burns Stainless Transfers Company Ownership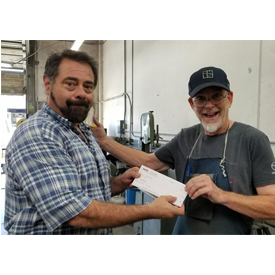 The owners of Burns Stainless LLC have transitioned the business's ownership to a longtime technical partner. Vince Roman is now the sole owner of the company after Jack Burns and Rick Popovits, who partnered as principals of the business for almost 30 years, transferred ownership to him. The official transition began in September and is now complete.
Roman has been a part of the Burns Stainless family for more than 17 years. The transition has been in the planning stages for "quite some time," according to Burns Stainless.
Popovits plans to retire, while Burns will remain at Burns Stainless providing research and development in the fabrication shop.
"It is a great pleasure for me to turn the reigns of Burns Stainless over to Vince," Burns said. "I have the utmost confidence that Vince will continue our legacy at Burns Stainless to supply the finest quality parts to the motorsports industry."
Burns Stainless will continue to service its customers with the same quality and commitment that has built our reputation as the standard in the business, according to the company.
"I am very excited to step into Jack and Rick's shoes," Roman said. "Jack has been a great mentor and friend over these past many years, and I look forward to continue the tradition of innovation, quality and service that Burns Stainless is known for."
Officially on the record as Roman Werks Inc., the company will continue to do business as Burns Stainless.
Burns Stainless provides exhaust components for professional racers and fabricators. The company's customers include race teams in NASCAR, NHRA, ALMS, FIA and other top-tier race series. The company also provides engineering services for specific racing applications including exhaust collector and header design.