News
Bruce Crower Passes Away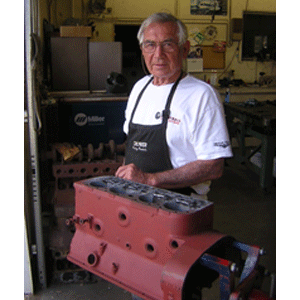 Bruce Crower of San Diego-based Crower Racing Cams & Equipment Co. has passed away, according to SEMA. Crower is a member of the SEMA Hall of Fame Class of 2019 and will be inducted posthumously on July 26 at the SEMA Installation & Gala in Anaheim, California.
Crower began making performance parts for himself and fellow hot rodders more than 60 years ago. Crower Cams and Equipment Co. Inc. is still driven by Crower's passion to make things go faster, resulting in a multimillion-dollar organization that produces high-performance aftermarket parts for a wide variety of cars, trucks, motorcycles, tractors and antiques, according to SEMA.
From the mounting of the 671 Blower on his Hudson to the Crower Glide Clutch and wings on Don Garlits' race car, Crower is credited with advancing the industry's speed, safety and overall innovation.
Over his career in the automotive performance and drag racing markets, Crower has been recognized for his numerous contributions, including the 1977 SAE Louis Schwitzer award for innovation and engineering excellence for both his automatic clutch and the flat-8 engine; in 1993, he was inducted into the International Drag Racing Hall of Fame; and won a 2007 PopSci Invention Award from Popular Science for his six-stroke internal-combustion engine.