News
Brian Tooley Racing and The Tuning School Announce Partnership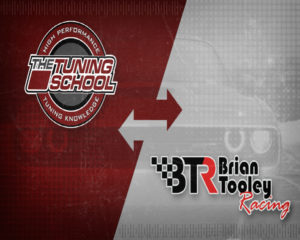 Brian Tooley Racing and The Tuning School have announced a collaboration that will allow BTR, manufacturer of high-performance automotive parts, access to high performance training. This alignment aims to serve as a catalyst to strategically grow each company's staff and dealer network.
"We're very excited to be partnering with The Tuning School.  With our combined resources we will be able to accomplish some very exciting things in the future," said Brian Tooley, founder and president of Brian Tooley Racing
"We always get excited to work with great partners in the performance industry but working with Brian Tooley Racing is especially exciting.  Why? Because this is a great way for shop owners and enthusiasts participating in our Hands-on courses to get first-hand experience with how BTR products perform on our own class cars and how well these cars tune…which is invaluable. Just having that knowledge alone makes their jobs so much easier when they get back home!" said Bob Morreale, president and founder of The Tuning School.
By joining forces, every Tuning School student who attends a hands-on course at The Tuning School's headquarters in Odessa, Florida will have the opportunity to tune vehicles modified using BTR's high-quality camshaft and valve kit components.