News
Bowdoin Selected as BOLT Lock Sales Rep of the Year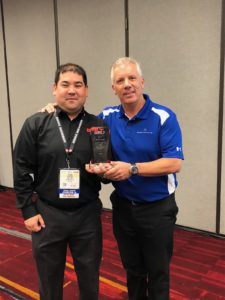 BOLT Lock has selected Jeff Bowdoin of Bowdoin Marketing Inc. as the company's 2018 Sales Representative of the Year. Bowdoin's selection was announced Oct. 29 at the SEMA Show in Las Vegas.
Bowdoin, currently located in Elkhart, Indiana, is the sales manager and president of Bowdoin Marketing Inc., and has been serving the automotive aftermarket with his business for almost 25 years. He has more than 30 years of experience in both the representative business and manufacturing.
"Jeff has done an amazing job for BOLT Locks this past year, and we are very lucky to have him, and his team, representing us in the field," said Jason Buckles, sales account manager for BOLT Lock. "Jeff was selected for his high level of dedication to promoting BOLT Locks and helping to grow the line, particularly through his significant increase with Meyer Distributing, which is one of his key accounts. Jeff has been a pleasure to work with, and I know he will continue to help push the BOLT Lock line. He is very deserving of this recognition."
BOLT presents the Sales Representative of the Year award annually to recognize excellence in customer service and sales achievements of company representatives. Bowdoin has represented BOLT Lock for more than seven years.
"The quality and innovation of BOLT Locks draws customers to the company's line of products. I'm proud to work with such a great team and represent such a great brand and product line," Bowdoin said. "This year has been great, and I'm looking forward to an even better year in 2019."