News
BorgWarner Races On With INDYCAR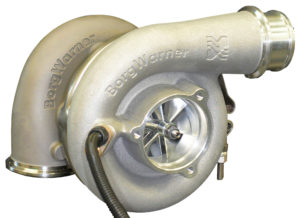 BorgWarner will continue as the Official Turbocharger Partner of the IndyCar Series.
The company's Engineered for Racing (EFR) race-proven turbochargers have logged more than 1.25 million trouble-free miles since 2012 on high-speed oval tracks, road courses, street courses and short oval tracks, according to the company.
"BorgWarner is honored to continue its partnership with INDYCAR and the IndyCar Series, America's premier open-wheel racing series," said Scott Gallett, vice president marketing, public relations, government affairs and internal communications, BorgWarner Inc. "Our EFR turbochargers are the perfect match for INDYCAR. With their advanced engineering, low weight and proven durability, they truly are engineered for racing."
Assembled at BorgWarner's Asheville, North Carolina facility, the company's lineup of EFR turbochargers feature: low-weight Gamma-TiAI (titanium aluminide) turbine wheels and shaft assemblies for quick boost response; patent-pending dual-row ceramic ball bearing cartridges for more thrust capacity, durability and turbine efficiency at low expansion ratios; and investment-cast stainless steel turbine housings for increased efficiency, improved durability and corrosion resistance.
BorgWarner has a long history with INDYCAR and the Indianapolis 500, having presented the Borg-Warner Trophy since 1936.
Designed in the popular 1930s art deco style, the sterling silver trophy includes wings on the sides to symbolize flight, stands at more than 5 feet tall and weighs in at more than 110 pounds with its base. The trophy displays the sculpted face of each race winner.
BorgWarner offers a range of aftermarket EFR turbochargers supporting 225 to 1,100 hp.