News
BorgWarner Jackpot Up for Grabs at Indianapolis 500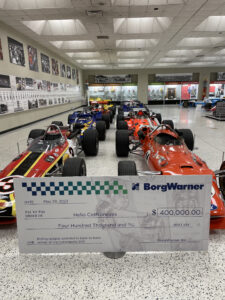 BorgWarner continues to increase its rolling jackpot prize for next weekend's Indianapolis 500, which now sits at $400,000 – raising the stakes for another back-to-back win for last year's winner, Helio Castroneves, the company announced.
To win the jackpot, a driver has to win the Indy 500 two years in a row; this marks the third time Castroneves is in a position to capture the prize. His 2002 victory earned him the jackpot, which at the time was $160,000, and he has remained the only driver to ever secure the prize, the company said.
Since its establishment in 1995, BorgWarner has added to the prize fund by $20,000 each year. Castroneves is one of five drivers to ever achieve back-to-back wins in the history of the race. Others who have achieved this feat include Wilbur Shaw (1939-1940), Mauri Rose (1947-1948), Bill Vukovich (1953-1954) and Al Unser (1970-1971). He is also among a group of only four drivers that have won the race four times. A victory for Castroneves in 2022 would make him the first driver ever to win the jackpot twice and the only driver to earn two back-to-back victories at the Indianapolis 500. Nobody has ever won the race five times, another record within reach for Castroneves.
"BorgWarner takes great pride in our extensive history with this classic motorsport event, and we enjoy upping the ante with this exciting rolling jackpot," said Frédéric Lissalde, president and CEO, BorgWarner. "We're on the edge of our seats waiting to see if Helio will once again claim the jackpot or if another driver will be immortalized on this year's coveted Borg-Warner Trophy."
Additionally, the likeness of this year's winner's face will be sculpted and engraved onto the Borg-Warner Trophy, as is tradition. This year's victor also will receive the BorgWarner Championship Driver's Trophy or the "Baby Borg" – a miniature version of the 110-pound sterling silver Borg-Warner Trophy. If Castroneves does not come out victorious, the funds for the jackpot will roll over to the 2023 Indy 500 with an additional $20,000 added to the pot.