News
Book Goes Behind the Scenes of Steve McQueen's 'Le Mans'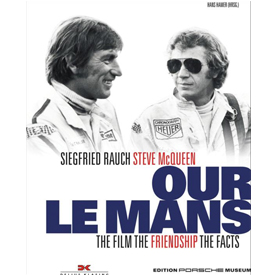 The new book Our Le Mans, published by Delius Klasing, tells stories from behind the scenes of the classic 1971 film, Le Mans. The film stars Steve McQueen and Siegfried Rauch.
Rauch, who plays McQueen's unyielding rival in the film, was a close friend of McQueen's in real life. Rauch takes us through this book and, for the first time, tells us how it was: What McQueen was like, the time he ate sauerkraut at the Rauch's, or played with their children, and how he became their godfather.
Rauch shows a different, private side to the 'king of cool'. The book features photos and facts from behind the scenes of the Le Mans film where McQueen created a cinematic monument to the race, drivers, mechanics and racing cars in the most realistic conditions. Exclusive and never before published documents come to light, including letters from Steve Siggi and private photos from the families' albums.
The other stars of Le Mans have their say as well: the real racing drivers. Herbert Linge reminisces about the Porsche 908-which belonged to McQueen-that Linge drove as a dolly during the race. Hans Herrmann and Richard Attwood tell about their victory in the Porsche 917, the first Porsche overall victory at the Sarthe. Stuntman Dr. Erich Glavitza, who also prepared the cars, explains what happened in 1970 during the shooting in Solar Village, and David Piper, who lost a leg during the production.
Delius Klasing is one of the leading special-interest publishers in Europe.