News
'Bitchin' Rides' Celebs & Loud Project Cars Planned for KICKER Booth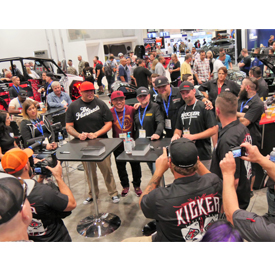 The KICKER SEMA booth (No. 11861) will feature world premieres, custom vehicles and celebrity appearances during the Oct. 30-Nov. 2 trade show in Las Vegas. KICKER will be located in the Las Vegas Convention Center's North Hall, booth number 11861.
More than 40 elite builders throughout the show have KICKER gear as their audio partner of choice, according to the company. Weaver Customs, Kindig-It Designs, Classic Car Studio and RMD Garage are among the world-class vehicles that feature KICKER audio products in their builds this year.
Bitchin' Rides
Kindig-It Design is returning to the KICKER booth to reveal its one-off Hummer H2 at 9 a.m. on Oct. 30. Stars of Velocity's Bitchin' Rides, Dave Kindig and Kevin "Kev Dogg" Schiele will be onsite, as well as the full Velocity film crew covering the event.
GM Partnership
At 11 a.m. Tuesday, KICKER and General Motors executives will unveil several KICKER options in the 2019 Chevrolet Silverado and GMC Sierra. KICKER will offer a complete audio system in both truck models, featuring KICKER's computer-optimized, DSP amplifier built to power the full-range door speakers. As a second option, KICKER will also make available a separate 10-inch, 200-watt powered subwoofer system, adding bass to the factory sound.
The 2019 GMC Sierra also will highlight the new MultiPro Tailgate System, which now features KICKER Audio as an exclusive option available at dealerships. The system automatically deactivates when the tailgate is lifted, according to the company.
SicChops
Also featured in the booth will be  GoodGuys Gold Award-winning shop SicChops, which is bringing a 1961 VW Bus, complete with four KICKER Hideaway compact subwoofers, a KX-Series amplifier and Q-Series component speakers.
Celebrity Signings
KICKER's both will be busy with celebrity signings. On Wednesday from 11:30 a.m. to 12:30 p.m., the Mod Kids USA elite kart-racing team stops by to meet dirt-track fans. Then from 1 p.m.-3 p.m., the stars of Discovery Channel's Street Outlaws will be at the KICKER booth. Chuck "Death Trap" Seitsinger, Ryan "Fireball" Martin and Jeff Lutz will meet fans and sign autographs.
On Thursday, more Street Outlaws starts are set to visit the booth, starting with Farmtruck and AZN from 10 a.m.-11 a.m. Then from 1 p.m.-3 p.m., Justin "Big Chief" Shearer, Shawn "Murder Nova" Ellington and "Daddy Dave" Comstock will be shaking hands and signing autographs.