News
Big Oly Bronco Up for Auction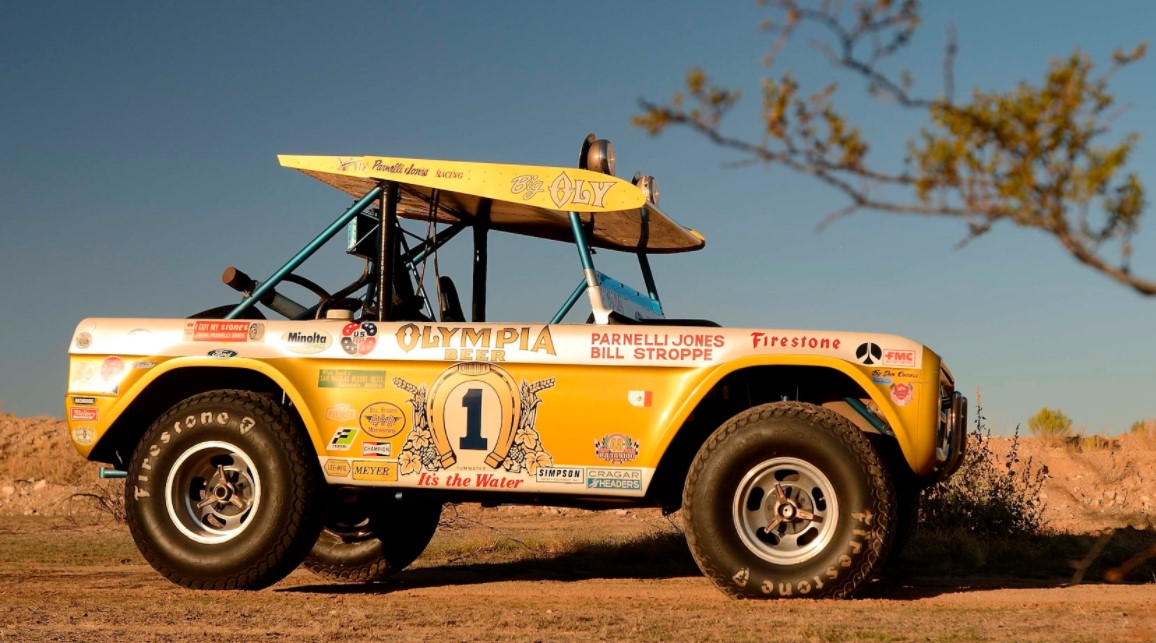 The Big Oly Bronco is slated to cross the Mecum auction block at Dana Mecum's 34th Original Spring Classic scheduled for May 14-22 in Indianapolis, the firm announced. Based on a 1969 Ford Bronco and with sponsorship in place from Olympia Brewing Company, Big Oly was driven to victory by Parnelli Jones and Bill Stroppe in the 1971 Baja 1000, 1972 Baja 1000, 1973 Baja 500 and 1973 Mint 400.
After an attempt at the Baja 1000 in a mostly stock Bronco in 1968, Jones, Stroppe and mechanic Dick Russell built a faster, stronger, lightweight Bronco with a tube frame and body made of fiberglass and aluminum.
The innovative off-roader was powered by a 351/390 HP Ford Windsor V-8 engine mated to a modified Ford C6 B&M hydro transmission and sported two 22-gallon fuel cells. Featuring a chrome moly space frame, fiberglass and aluminum bodywork with extreme shock absorber and suspension travel, a big wing on top, a split windshield to reduce dust in the cockpit and a spool rear end for better traction, Big Oly was a sensation right from the beginning. The 154-inch-long, 72-inch-wide vehicle had a dry weight of merely 2,620 pounds, making it lighter than some small sports cars of the day.
After breaking an axle in its first try in the 1970 Baja 1000, Big Oly went on to dominate off-road racing for the next few years, winning the Baja 1000 in 1971 and 1972, and the Baja 500 and Mint 400 in 1973. The inaugural win for Big Oly at the Baja 1000 in 1971 was achieved with a time of 14 hours 59 minutes.