News
Bestop Wins Rare Supplier Award from Meyer Distributing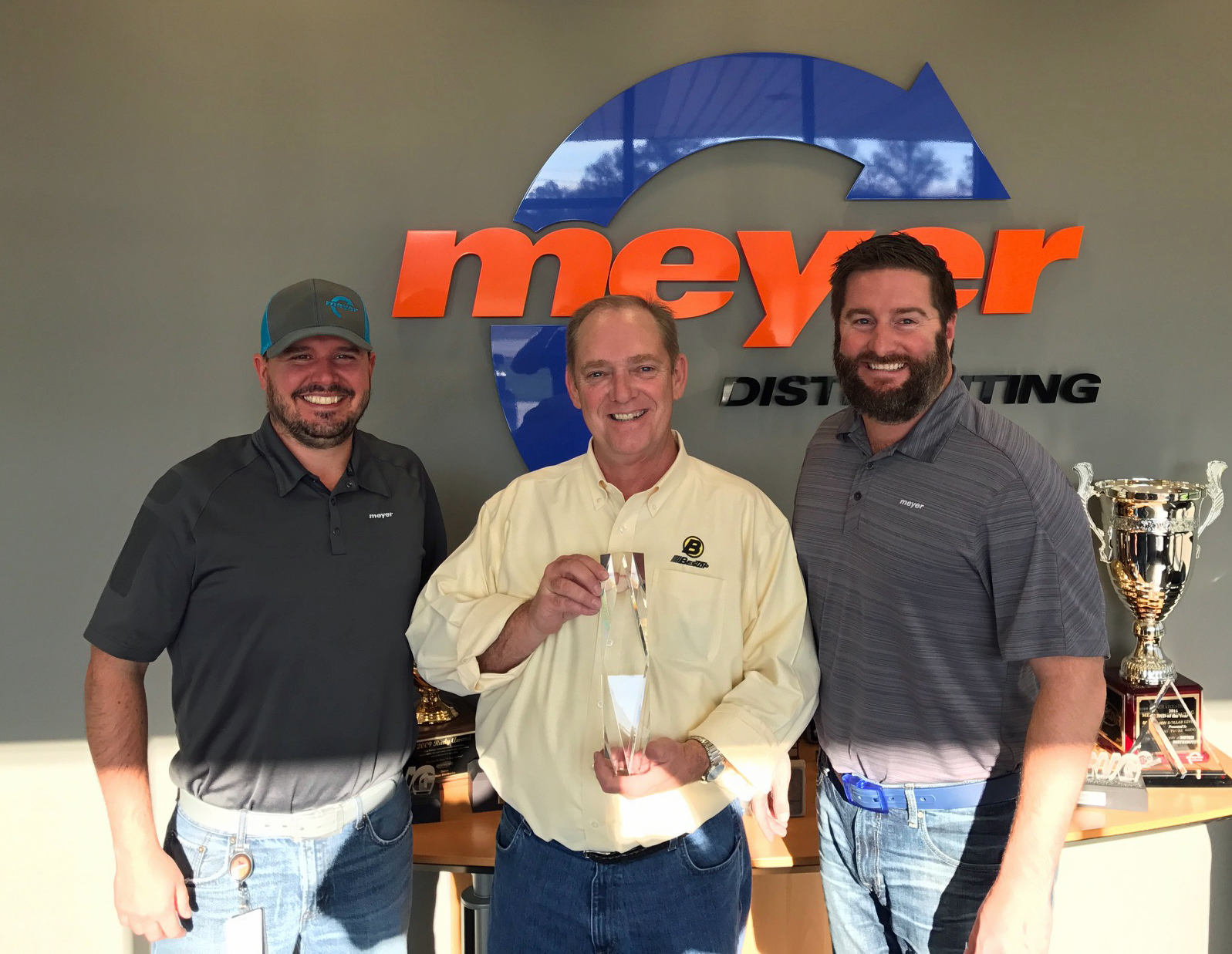 Jasper, Indiana-based Meyer Distributing recently honored Bestop with an award it rarely gives out.
The Louisville, Colorado Jeep accessories company earned the Jeep/Off-Road Manufacturer of the Year award from Meyer for meeting stiff criteria that prioritizes profit, relationship synergy and sales growth. WeatherTech was the last accessories maker to win the award more than three years ago.
"We do not take the award lightly, nor do we give it out every year. It's actually been a couple of years since we gave it out. Nobody really shined like Bestop this year," said Nicholas Gramelspacher, vice president of sales and marketing for Meyer. "Growth is always important, but we don't like to grow lines at the cost of gross margins, so profitability is No. 1.
"A lot of times, it's difficult to grow a line at the levels we're seeing with Bestop without sacrificing margin. We have found a way to do that. We've got a winning cocktail constructed."
Gramelspacher specifically credited Bestop Sales Manager Larry Lyon for pushing Bestop over the top for the award.
"From the programs (Lyon's) put together, his customer service and interaction with the sales team-it's all been led by him," Gramelspacher said. "Clearly, Larry's got a great team back at the factory, in the marketing department, shipping and warehousing as well. It's a team effort, but because of him Bestop was able to shine even brighter."
Lyon received the Meyer award on behalf of Bestop during a ceremony held after the annual Meyer golf outing in late September.
"It's very humbling. I think I'm just doing my job, honestly," Lyon said. "Working with everybody at Meyer makes that job that much easier for me to do. If I have questions, ideas or proposals, it's easy to get ahold of Nick (Gramelspacher), or category managers, buying departments and marketing departments. Everybody is very accessible.
"We've seen some outstanding results from Meyer, especially within the last 24 months," Lyon added. "Meyer is very adaptive to the industry, and can operate at speeds faster than I can imagine when pulling together a particular promotion. I think that's what keeps those guys out front in our industry."
The dynamic synergy built between Meyer and Bestop has been 10 years in the making. That strong bond benefits both companies in an increasingly competitive business climate, Gramelspacher said.
"The programs that we were able to put together for our customers were more aggressive than years past," he said. "We were able to take advantage of special buys with Bestop and pass along savings to customers, which in turn lifted gross profit and gave our customers an opportunity to save and become more competitive in a landscape where they face internet buying and shopping. We were able to upsell a lot of people from buying those really inexpensive tops. Clearly our numbers went way up, but I don't think it cost Bestop a lot sales as far as splitting that pie up into more slices."
JL on the Horizon
With Jeep set to release the new Jeep JL Wranger at the end of the month at the LA Auto Show, Bestop and Meyer are eyeing more success to come.
"One of the funny things I noticed at SEMA this year was, even though there was not one JL in the South Hall, it was one of the most popular vehicles we were getting asked questions about," Lyon said. "It's gonna be awesome to have the new platform out there. It gives us a new vehicle to get very creative with. It's going to open up a lot more doors."
Meyer expects demand for additional warehouse space to continue to grow once aftermarket accessories for the JL have had time to develop.
"The JK has been out 10 years now and by no means is it stale. It still is an unbelievable vehicle and will be for years to come because of all the new owners of that vehicle who will install something," Gramelspacher said. "The (aftermarket) manufacturers have been chomping at the bit for a body change. We're very, very excited about the new platform coming with the JL. I think we're going to see a nice lift in business and vehicle sales from it."
Lyon is headquartered in Dallas and serves as the mid-south regional sales manager for Bestop.