News
Bestop Producing Masks for Healthcare and Essential Workers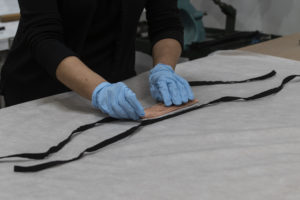 Bestop, a manufacturer of Jeep soft tops and accessories, has transformed its manufacturing facility to enable personal protective equipment (PPE) production for healthcare and essential workers. Masks as well as a plastic face shield are currently in production.
PRP and Softopper, also members of the Bestop Premium Accessories Group, will be producing masks out of their California and Colorado-based facility, respectively.
All three companies will be utilizing their cut and sew capabilities to produce reliable, high-quality masks. More specifically, PRP will produce 3 different types of masks. The first of the three – a one-piece mask – will be comprised of one layer of cotton jersey knit fabric. The second, a tri-fold mask, will have an added later of polypropylene non-woven fabric in addition to the jersey knit. And the last will be comprised of one layer of cotton, one layer of bamboo antimicrobial fabric and one layer of copper mesh. The innovative copper add-on is incorporated with hopes that the anti-microbial material will kill viruses on contact.
"Here at Bestop Premium Accessories Group, we consider it an honor and duty to transform a portion of our manufacturing facilities to produce personal protective equipment including masks and protective visors," says CEO John Larson. "It is our sincere hope that this effort has helped provide some relief for medical and essential personnel."
PRP has already seen a positive response from their donation to a Denver healthcare facility. When asked if any supplies were readily available, PRP sent a shipment directly to a member of the medical staff within days.
All three brands will continue to produce masks and plastic face shields for donation to Denver and Southern California medical and essential workers.