News
Bestop Prepares for Big Jeep JL Push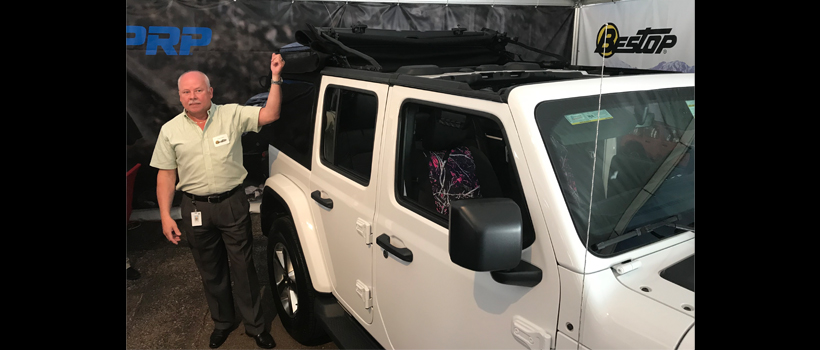 Almost 40 new products for the Jeep Wrangler JL are set to debut from Bestop and its associated brands in the coming months. The soft top company showcased the accessories during an event for industry figures and media on Thursday at its Louisville, Colorado headquarters.
Perhaps the most noteworthy update to Bestop's new-product lineup is the company's decreased reliance on zippers for removable soft top windows. Zippers have been widely replaced by technology that allows users to slide windows in and out.
"With the new technology, we're allowed to address the frustration points of operating a soft top," said Larry Lyon, Bestop regional sales manager. "Zippers are great fasteners, but they can get dirty and can get difficult. We listened to consumers and adopted the zipperless technology."
Bestop has updated best-selling JK topper products-such as the Trektop NX, Sun Bikini, and Sunrider for Hardtop-to fit the JL.
The company at first will sell just one Trektop NX model for the JL, condensing choice features from the NX series for JK-which include the Trektop NX Plus, Trektop NX, Trektop Pro, Trektop NX Glide-"into one SKU. The Trektop NX also features slide-out technology for the removable side windows, while the back window is removed using two vertical zippers and a slide. More Trektop NX models be announced at a later date, according to a company spokesman.
JL customers can also expect additional offerings from Bestop, including a narrow front bumper, modular front and back bumpers, a retractable sun shade, seat covers, a spare tire track and a twill tire cover. Two-piece doors made for the 2018 Jeep Rubicon by Bestop will feature anti-theft locks to keep parked Jeeps more secure.
The Bestop-designed OEM soft top offered by Fiat Chrysler Automobiles (FCA) is functional enough for a single person to open and close while the Jeep is parked. It is easily propped open once unclamped. The user can then roll it back to a fixed position at the rear of the Jeep where it can sustain speeds over 100 mph. After the side windows and rear window are slid out, the user can pull a lever on the ceiling of the topper to slide it down even further for an open air experience.
Bestop has plans to offer a unique version of the JL OEM soft top for the aftermarket, according to the company.
Bestop's other brands include Baja Designs, Tuffy Security and PRP.