News
Bestop Debuts Customizable Jeep Soft Tops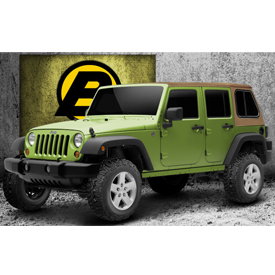 Bestop is now offering consumers more than 14,000 possible options for customizing their soft tops. The new offering, which is now live and available via Bestop.com, lets Jeep JK Wrangler owners mix and match between six premium twill soft top colors, six binding colors, and 17 stitching colors in four of Bestop's most popular Wrangler JK soft top designs, including Supertop NX, Trektop NX Plus, Trektop NX Glide, and Trektop Pro.
Available soft tops colors-all in premium twill-include Crushed Red Pepper, Pebble Beige, Oak Tan, Navy Blue, Granite Gray, and black.
Stitching options include Natural White, Sunflower Gold, Toboggan (orange), red, burgundy, Pacific Blue, Royal Blue, Navy Blue, Forest Green, Dark Olive, Sandstone, brown, Pearl Gray, Carcoal, Lime Green, purple, and black.
For binding-the finish at the fabric's edge that contributes to a clean appearance-consumers can choose from the same colors as the soft top color options.
"We have attended hundreds of off-road and Jeep events over the years, talking to thousands of Jeep Wrangler owners along the way," said John Larson, CEO of Bestop Premium Accessories Group. "And they've told us that they want more options to make their Jeep uniquely their own. This new customization initiative empowers them to do exactly that."
Customizable Jeep soft tops from Bestop are currently available through the Bestop website (Bestop.com). The online launch is only the first step in the project, while Bestop plans to make it available in the future through its distribution network.
On Bestop.com, consumers access a configurator where they can mix and match various customization options to find a combination that works best for them. They then submit their configuration to Bestop, where a Bestop customization specialist reviews it and contacts them to discuss and confirm it.
Consumers may also request colored swatches with their choice of thread and binding to review prior to confirming their purchase. All customized tops are made to order in Bestop's factory and ship within four weeks of ordering.
"Jeep Wrangler owners tend to like to stand out from the crowd," Larson said. "Now, with customized soft tops from Bestop, we're thrilled to help them. And the best part is that we're expecting to grow this program and offer more customization options as we hear more feedback."