News
Best In The Desert Names New Race Operations Manager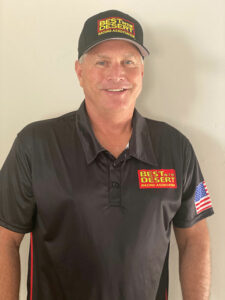 Best In The Desert has named Jeff Phillips as the off-road racing organization's new Race Operations Manager, the sanctioning body announced.
In the role, Phillips will be organizing and coordinating future Best In The Desert races starting with the Jagged X National Desert Cup Presented by Quantum Motorsports at Glen Helen Raceway in San Bernardino on Sept. 25-27, 2020.
Phillips has been associated with Best In The Desert since its inception, originally serving as race steward from 1984 to 2000 and working alongside the organization's founder, Casey Folks. Phillips helped in transitioning Best In The Desert from a motorcycle-only racing series to include off-road cars and trucks. Phillips helped organize Best In The Desert's first motorcycle race, the World Championship Hare and Hound, and its first car/truck race, the now world-famous "Casey Folks" Vegas to Reno race.
"Our relationship with Jeff Phillips goes back literally to our childhood," said co-owner Daryl Folks. "Not only have we been lifelong friends and racing partners, but we were also both raised under my father Casey Folks' guidance and tutelage. Jeff's association with my dad, his knowledge of his work ethic, sense of fair play, and treating everyone equally with respect, and his passion for our sport makes him ideally suited for assuming this role. We look forward to working with Jeff to help us take Best In The Desert to the next level."
As an accomplished motorcycle racer himself, Phillips brings a multi-faceted level of experience to his new role, the organization says, and with numerous Motorcycle Racing Association of Nevada (MRAN) and Best In The Desert Championships under his belt, Phillips knows the industry inside and out. He has also served as the president of Motorcycle Racing Association of Nevada (MRAN) and the Groundshakers Motorcycle Club, both roles Casey Folks also filled. He is also the original co-founder of WORCS Racing, launching the series in 2000 with partner Dave Hamel.
"I'm very excited about rejoining the Best In The Desert family. I see this as a bit of an American folk story; the adopted brother who grew up learning the family business returns after 20 years to help guide the business into the future," said Jeff Phillips. "It's been gratifying to watch the series that Casey and I worked together on for so many years doing so well and I'm eager to put all that I've learned through my own race management and event promotion experience to help keep the momentum moving forward. It's very clear that Daryl and Bryan Folks have a strong vision for the future of Best In The Desert. I look forward to helping them achieve not only their goals but the goal Casey originally set for the series to put on fun, safe, well-organized events with an emphasis on fellowship and adventure."