News
BendPak Retains Simpson Communications as PR Agency of Record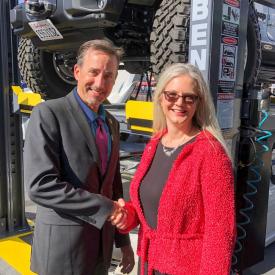 BendPak has named Simpson Communications its public relations agency of record for its BendPak, Ranger and Autostacker brands of car lifts, parking lifts, wheel service and shop equipment.
BendPak produces automotive lifts, pipe benders, air compressors and shop equipment. Simpson Communications specializes in business-to-business communications for the automotive, work truck and trucking industries, and has been active in the vehicle lift and shop equipment market since 2004.
"Simpson Communications offers strong PR expertise and unmatched knowledge and experience in the automotive lift industry," says Jeff Kritzer, executive vice president, BendPak. "We're confident that experience will help us increase brand visibility and awareness of the benefits our products offer to car dealers, repair shops and parking operations of all sizes."
As agency of record, Simpson Communications is responsible for BendPak, Ranger and Autostacker public relations in the United States.
"BendPak has built its reputation on quality, and we're honored to join its excellent marketing team," says Kristen Simpson, president of Simpson Communications. "We embrace the opportunity to put our expertise to work to help BendPak reach its target audiences and achieve its goals."