News
BASF Releases 2022 Color Report

Achromatic colors dominated the automotive market around the globe in 2022, according to the annual BASF Color Report for Automotive OEM Coatings, but the automotive color rainbow is expanding to allow colors like yellow, orange, green, and violet to take market share.
Despite the shift in colors, the achromatic colors – white, black, silver, and gray – followed a familiar pattern, coating the majority of the non-commercial vehicles produced in 2022. As it has been for several years, white is still the most popular car color around the world for its classic, timeless beauty, and high resale value.
If buyers didn't choose achromatic colors, they often went for blue or red. While those two color spaces are still very popular, other chromatic colors like yellow, orange, green, and violet are all gaining market share in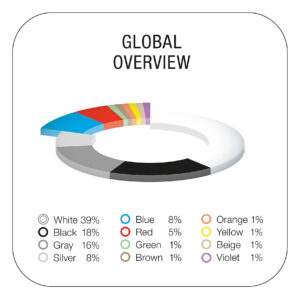 most regions of the world, according to the report.
In North America, blue and red are still dominant, but green, yellow, violet and beige are growing in popularity.
Blue is still on top, and the gap between blue and red is widening as blue continues its dominance. Achromatic colors like black, gray, and silver lost some market share, especially in larger vehicles. That allowed earthy tones like beige, brown, and green to increase, and violet to gain market share as car buyers' tastes change, the report found.
Europe, Middle East and Africa (EMEA) showed gains for its two most popular colors – white and black – and losses in market share for gray and silver. Blue still remains the most popular among chromatic colors in EMEA, according to the report, but both blue and red lost market share. Orange started appearing in car buyers' preferences, and yellow, brown, and green all picked up a few percentage points.
Click here to see the full report.