News
Barrett-Jackson, Goodguys Collaborate on Scottsdale Event Schedule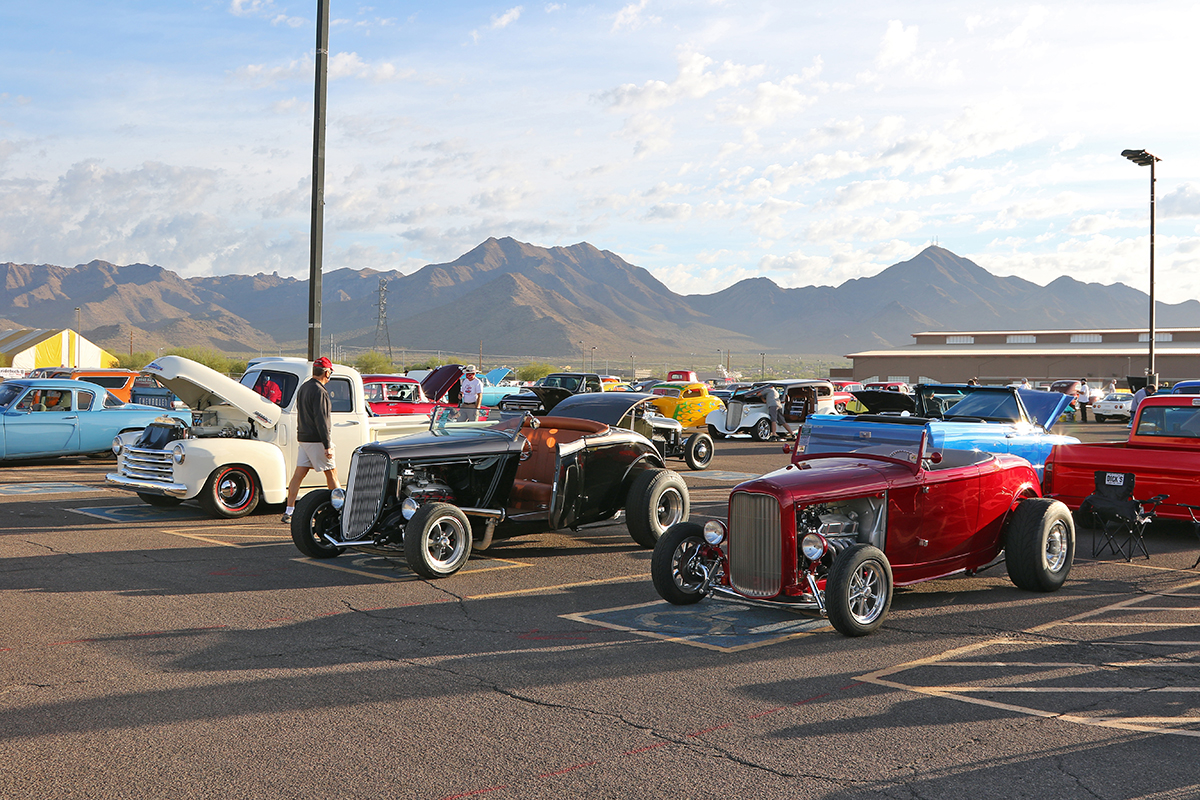 Barrett-Jackson, Goodguys Rod & Custom Association and the City of Scottsdale have announced the revised dates for two major automotive events at WestWorld of Scottsdale in 2021. The flagship Barrett-Jackson Scottsdale Auction will be held March 20-27, while the Goodguys 11th FiTech Fuel Injection Spring Nationals is slated for April 16-18.
"We sincerely appreciate the efforts made by the City of Scottsdale to help us return to an auction that will look and feel much like our annual January event," said Craig Jackson, chairman and CEO of Barrett-Jackson. "We're also grateful to Goodguys for their flexibility in moving their March Spring Nationals at WestWorld of Scottsdale to April. Working together, we found a solution that works for everyone."
Both Barrett-Jackson and Goodguys intend these spring events to be familiar to those from past years, while continuing their efforts to protect the health and safety of customers, sponsors and fans, the organizations said. A redesigned event site layout provides sufficient room for physical distancing, and safety precautions recommended by local and state health authorities will also be implemented. The Barrett-Jackson event will include several preview days at the beginning of the week to allow collector car enthusiasts time to view the vehicles safely and in a comfortable, physically distanced environment.
"After plenty of discussions, we are pleased that we could come to a mutually beneficial agreement with everyone involved," said Goodguys COO Andrew Ebel. "The City of Scottsdale, Barrett-Jackson and local automotive enthusiasts all win with this new schedule. We look forward to putting on a fun and safe event over the new dates in April."
The three entities worked closely together to ensure both the Barrett-Jackson Auction and the Goodguys Spring Nationals could be held safely this spring in a safe and healthy manner, the organizations said. The two automotive events attract local car enthusiasts and those from across the country and will help provide a much-needed boost to the Scottsdale economy.
"Immediately prior to Barrett-Jackson's special fall auction, the city completed facility upgrades at WestWorld to add air-sanitizing technology and other systems that make it a safer environment," said Mayor W.J. "Jim" Lane. "Since that successful event, additional systems have been installed ‒ the venue is better equipped than ever for public events. We also have trusted community partners like Barrett-Jackson and Goodguys working alongside the city in a collaborative fashion to provide the healthiest possible environment for guests. Working through the many challenges together, including adjusting their event schedules, I am very pleased that Barrett-Jackson and Goodguys will continue bringing their unique events to Scottsdale even with many adjustments that continue to be necessary in respect to public health guidelines."