News
Baja Designs Debuts Auxiliary Laser Light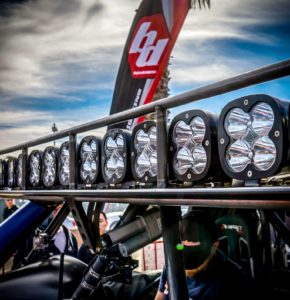 Baja Designs has created the ultimate long-distance auxiliary light for trucks, Jeeps, and UTVs.
The company claims the Baja Designs XL Laser is the first aftermarket light to use purely laser-chip technology offering nearly four times the illumination distance of similarly sized LED or HID lights. The product combines four laser chips with Baja Design's High Speed Spot optics to project the light in an extremely tight 1.5-degree pattern. This pierces darkness with 2,000 lumens of light in excess of a half mile.
Each Baja Designs XL Laser light draws 60 watts of power and has a 2,000-hour life expectancy from its laser chips, which are protected by built-in over-voltage protection, according to Baja Designs.
Laser chips, developed by Nobel Prize-winning physicist Shuji Nakamura, offer compact output in addition to long-distance illumination.
Visit bajadesigns.com for more information.