News
AWE Partners with Steeda on Mustang Police Cruiser Build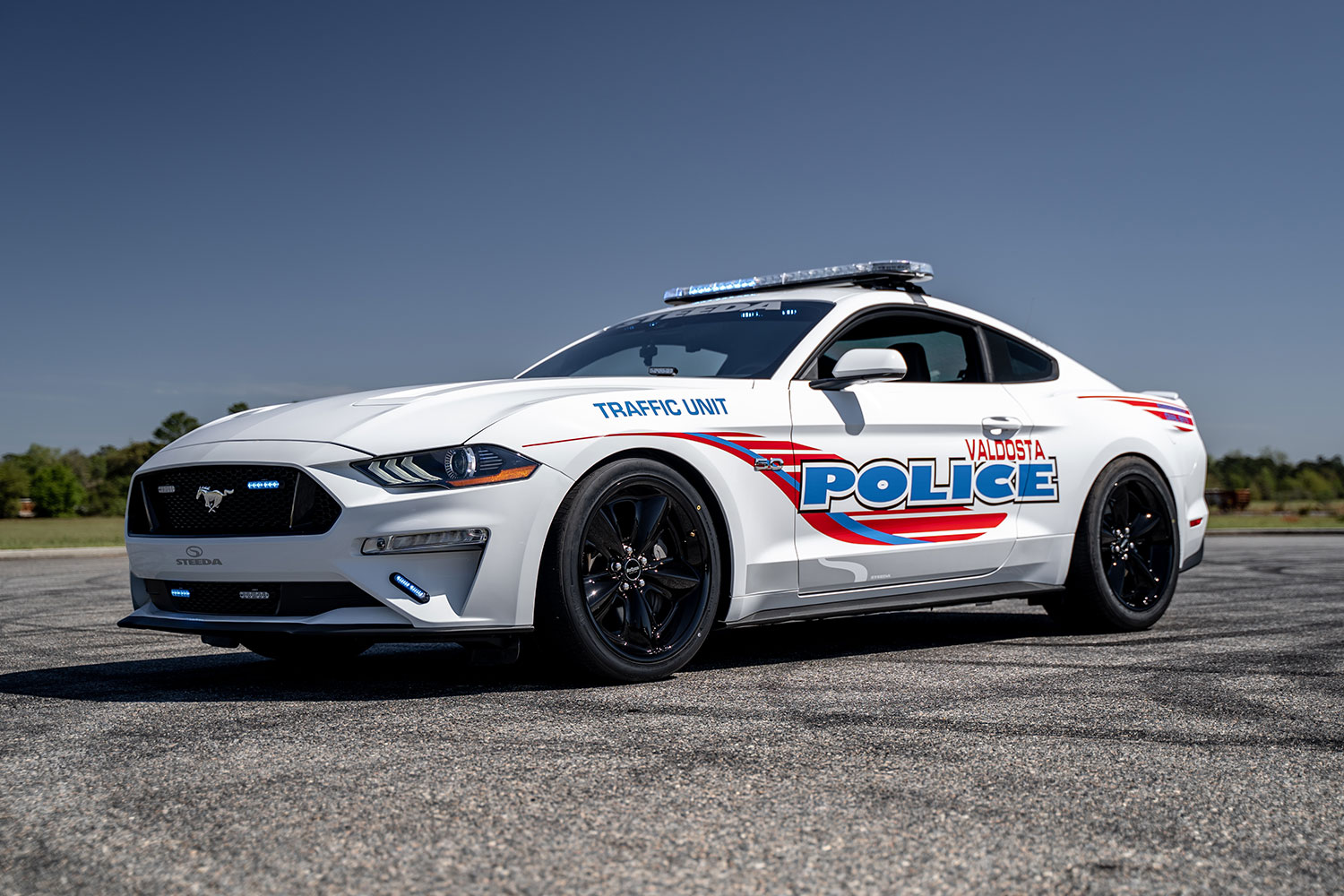 AWE has teamed up with Mustang specialists Steeda to outfit a vehicle from the Valdosta, Georgia Police Department, the company announced.
Starting with a standard 2021 Mustang GT with a 10R80 10-speed transmission, the companies gave the car complete suspension, chassis, wheel, tire and powertrain upgrades.
One of AWE's contributions to the build was an AWE Touring Edition Catback Exhaust with quad 4-inch tips in diamond black, the company said.
Named Special Service Vehicle #2021-007, the reborn traffic unit is piloted by Sgt. Griffin.
"The AWE exhaust is really nice, has a great tone and doesn't drone. I really enjoy the sound and it makes the car fun to drive. Now, it truly sounds like a Mustang," said Griffin, Valdosta Police Department.
Build list:
From the Factory:
5.0L High Performance Coyote V8
10-Speed 10R80 Automatic Transmission
Interior Upgrades
Steeda Dashboard Serialization
Steeda Door Sill Plates
Steeda S550 Mustang Hood Strut Kit
Steeda Mustang Trunk Pop Kit, Large Wing/Spoiler
Steeda Suspension & Chassis Upgrades
Steeda Mustang Adjustable Front and Rear Sway Bar Kit
Steeda Mustang GT IRS Subframe Bushing Support System
Steeda S550 Mustang IRS Subframe Alignment Kit
Steeda S550 Mustang Coupe Rear IRS Subframe Support Braces
Steeda Mustang Coupe Low-Profile Jacking Rails
Steeda S550 Mustang Ultralite 2-Point G-Trac Brace
Steeda Performance Wheel Alignment
Steeda Powertrain Upgrades
SCT X4 Mustang GT Tuner w/Steeda Certified Tune 5.0L Coyote
Steeda Mustang GT MaxFlow Open Cold Air Intake
AWE Tuning Touring Edition Cat-Back Exhaust w/Quad Black Diamond Tips
Steeda Wheel & Tire Upgrades
Nitto INVO Ultra High Performance Tires (275/35-20 F, 315/35-20 R)
McQueen Racing Mulholland Gloss Black Staggered Street Wheel Package
Steeda Exterior Upgrades
Steeda Rear Decklid Emblem
Steeda Engine Bay Serialization Badge
Steeda Windshield Banner – Silver
Steeda G-Trac Graphics Package
Steeda 10-inch Vinyl Decal
Steeda Mustang Sidewinder Decal – Silver
Click here to see a photo gallery of the build.