News
AWE AirGate, S-Flo Carbon Intakes Receive CARB Executive Order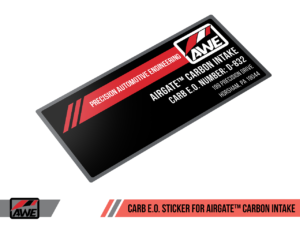 AWE, a precision engineering and manufacturing firm outside Philadelphia, Pennsylvania, has announced that it received California Air Resources Board Executive Order (EO) D-832 for the following intake products:
AWE AirGate Carbon Intake for the VW Mk7 Golf R, Audi 8V S3, and Audi 8S TTS, E.O. D-832
AWE S-FLO Carbon Intake for the Audi RS 7, E.O. D-832
"Installation of the AirGate Carbon Fiber Intake and S-Flo Carbon Intake, manufactured and marketed by AWE…has been found not to reduce the effectiveness of the applicable vehicle pollution control systems and, therefore, is exempt from the prohibitions of Section 27156 of the Vehicle Code," as stated in Executive Order D-832 as issued by the California Air Resources Board.