News
Autowriters.com Principal Passes Away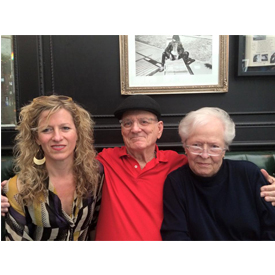 EDITOR'S NOTE: Lysa McCarroll of Autowriters.com shared the following note about the passing of her father, Glenn Campbell, who owned Autowriters.com:
"Lysa McCarroll here-Glenn Campbell's daughter, who worked with him on Autowriters.com. I am very sorry to say that my Dad passed away on April 30, 2018. He was 89 years old.
"A philosopher and writer by education and training, he cared about civil rights, journalism and the future of communications. He lead a church congregation to march with Cesar Chavez, organized events and activities that brought together different communities. His 'Road Ahead' column in the newsletter allowed him to explore and think about the rapidly changing world of information.
"It was probably my Dad's love of and his taste in music that best shines the light on his many facets: from Stan Kenton and June Christy to Kiri Te Kanawa, Carl Orff, Johnny Hartman, Style Council and Marvin Gaye. He never tired of the Glen Campbell comments or requests to sing 'By The Time I Get to Phoenix' or 'Rhinestone Cowboy.'
"He was also a passionate baker-obsessed with the perfect flaky pie crust-a sports fanatic (go Cubs!) and loved all kinds of card games. Bridge in particular.
"Glenn would tell you that his greatest accomplishment in life was his family. He leaves behind his wife of 65 years, Mary, seven children, five grandchildren and many people who thought of themselves as one of Mr. C's kids. A celebration of life will be held in Pasadena, California in August."