News
Austin Hatcher Foundation to Present Awards at Rolex 24 at Daytona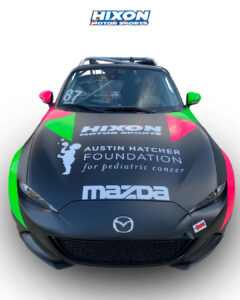 The Austin Hatcher Foundation for Pediatric Cancer will be presenting IMSA and Hixon Motor Sports with awards recognizing their contributions to the organization ahead of the Rolex 24 at Daytona, the organization announced.
For the 2023 season, the Foundation is continuing in its role as an official charity of IMSA for the ninth season. During 2022, IMSA and IMSA partners helped the Austin Hatcher Foundation raise over $116,000 through silent auctions, live paintings in hospitality corrals and donations, the organization said, all of which goes to the Foundation's efforts to help erase the effects of childhood cancer.
The Austin Hatcher Foundation was the proud charity of the American Le Mans Series for five years before becoming one of two proud charities of IMSA in 2014. IMSA has impacted the Foundation by assisting in helping raise over $2,800,000 since 2009. IMSA will be presented with the 2022 Impact Award this weekend at a press conference with AHF President and CEO, Amy Jo Osborn.
"IMSA couldn't be prouder to realize that nearly $3 million has been raised by our community for the Austin Hatcher Foundation since our partnership began 15 years ago," said IMSA President John Doonan. "This is a testament to the importance of the Austin Hatcher Foundation's mission and the quality of individuals who populate our race cars, paddocks and racetracks. It's an honor to accept the 2022 Impact Award on behalf of my teammates at IMSA and the entire IMSA community."
Additionally, Osborn will be presenting the 2022 Humanitarian Award to Hixon Motor Sports. The multi-car, Mazda MX-5 Cup Team owned by Bryan Hixon not only upholds a strong commitment to supporting the Foundation, the organization said, but also displays the Foundation's logo across its No. 87 racecar driven by Selin "The Machine" Rollan.
"I'm honored to work with and support the Austin Hatcher Foundation by using our shared passion for racing while doing good for pediatric patients and their families," said Bryan Hixon. "We are proud to have the No. 87 Hixon Motor Sports, Austin Hatcher Foundation, Mazda MX-5 Cup car driven by Selin Rollan in the field at Daytona and for the full season. I'd like to thank Amy Jo and everyone at AHF for this Humanitarian Award; let's continue to support them so they can continue the great work in providing resources, opportunities, and assistance to these wonderful children."