News
Atech Motorsports Now Offering Summit Racing Pro LS Forged Pistons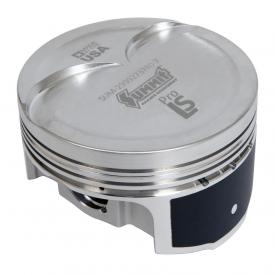 Atech Motorsports now offers Summit Racing Pro LS Forged Pistons for virtually any LS engine combination. They're available for popular crank strokes, connecting rod lengths and bore sizes, with compression ratios starting in the mid-9:1 range for boosted engines and up to 11.5:1 for naturally aspirated or nitrous-fed motors.
Pro LS pistons have a skirt profile with the cam and taper required to ride perfectly in the bore. A premium skirt coating allows the pistons to run even tighter to the cylinder bore walls. Other features include 2.250" chromium steel wristpins, precision machined ring grooves for thinner file-fit ring packs, generous valve reliefs for 6.0L and larger engines with cathedral or rectangular port heads.
Atech Motorsports also carries Summit Racing Pro LS rotating assemblies, ring sets, camshafts, and other performance parts for GM LS engines.