News
Atech Motorsports Adds EPAS Electric Power Steering Kits to Line Card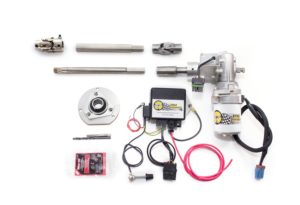 Atech Motorsports is now offering EPAS Electric Power Steering Kits, the performance parts distributor has announced.
EPAS kits are designed to update classic muscle cars, trucks and street rods to modern electric power steering.
EPAS replaces hydraulic lines and pumps, so it's lighter and can fit in tight engine compartments. The control module measures the amount of effort applied to the steering wheel and allows you to dial in the amount of assist needed. Everything tucks up under the dash and out of sight—only you know the system is there.
EPAS Electric Power Steering Kits retain the factory steering linkage with no major or irreversible modifications made to the vehicle.