News
ASE, ACA Reveal 'World Class Technician' Award Winners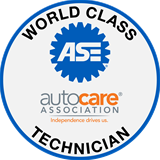 The Auto Care Association and National Institute for Automotive Service Excellence (ASE) have announced the latest recipients of the World Class Technician Award.
The two organizations provide the annual recognition to professional technicians who have attained ASE certification in 22 specific areas during the previous calendar year.
The 2023 World Class Technicians winners are listed below:
Anthony H. Caputa – Arnold, Mo.
Arlen Parker Hart – Athens, Ga.
Bobby Leatherman – Stony Point, N.C.
Bradley Kilwy – Plano, Texas
Brian Ward – Denton, N.C.
Bryan Jensen – Apple Valley, Calif.
Craig Wilkins – Fillmore, Calif.
Dale Collins – Orange Park, Fla.
Daniel Hammond – Indianapolis, Ind.
Daniel Indovina – Centennial, Conn.
David Yentema – Macedon, N.Y.
Don Verville – Cape Coral, Fla.
Gordon Marr – Yorba Linda, Calif.
Gregg Brinlee – Detroit, Mich.
Gregory Pheasant – Sparks, Nev.
James Moody – Heber Springs, Ark.
Jarod Johnson – Lubbock, Texas
Jason Kirby – Groveland, Fla.
Jeff Autery – St. Louis, Mo.
Joel A. Pritchard – Warren, Mich.
John Lewins – Nashville, Tenn.
John Vaccarello – Detroit, Mich.
Jon Ewing –Detroit, Mich.
Jorden Ellis – Corpus Christi, Texas
Luke Plant – Edmond, Okl.
Marcus Buchholz – Detroit, Mich.
Mario Monsivais – Houston, Texas
Matt York – Canton, Ga.
Michael Gavrielides – Winterville, Ga.
Nathaniel A. Dillard – Brookwood, Ala.
Paul Bostel – Apple Valley, Minn.
Paul French – Dallas, Pa.
Robert Bridges – Omaha, Neb.
Rodney Prince – Henderson, Nev.
Roger Abbey – Rochester, N.Y.
Russell Andrew Ringling – Warrenton, Va.
Ryan Woods – Old Bridge, N.J.
Sam Mott – Moncks Corner, S.C.
Shawn Williams – Ladson, S.C.
Thomas Kepler – Curtice, Ohio
Tyler Grahl – Newport, Tenn.
Victor Hasstedt – Hollister, Calif.
William P. Link –Virginia Beach, Va.
William Pickham – Bensonville, Ill.