News
Art Morrison Enterprises Offers New Chassis & Suspension Catalog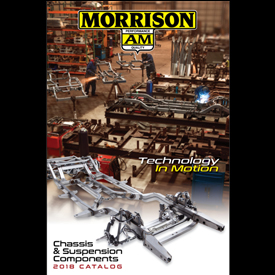 Art Morrison Enterprises has just released the 2018 edition of its annual Chassis & Suspension Components catalog.
The 72-page, full-color publication details the company's wide range of products. First and foremost among them is Morrison's ever-expanding lineup of GT Sport chassis, which are bolt-in replacements for factory frames. GT Sport chassis, which feature all required body and bumper mounts, plus core support, are available for a multitude of 1940-'70s cars and trucks.
AME also offers a line of MaxG and builder chassis that are CAD engineered for virtually any application, with body mounting handled by the builder.
Morrison also manufactures a variety of front and rear clips, including Multi-Link IRS setups with a choice of three cradle sizes. Front clips are available with five suspension options, including air springs, with a half-dozen offerings for the rear (besides the IRS).
Virtually everything required to finish building a chassis-including spindles, brakes, shocks, springs, rear end housings, axles, brackets, tabs, roll bars and steering components, as well as many useful tools-can be found in the catalog.
For additional information, visit ArtMorrison.com or call 800-929-7188. A printed copy of the new catalog is available upon request.