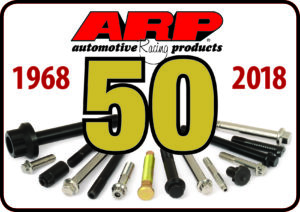 Professional fastener manufacturer ARP is celebrating its 50th anniversary in 2018.
The company provided a brief biography to mark the important milestone:
"It was 1968 when Gary Holzapfel-whose background was in aerospace fastener manufacturing-developed some bolts and studs for his racer friends that were a marked improvement over what was available at the time. This lead to the founding of Automotive Racing Products Inc.
"The company has come a long way since then, growing from what was literally a garage workshop to a sprawling manufacturing complex that encompasses seven buildings and some 170,000 square feet. ARP proudly does everything in-house, which includes engineering, R&D, forging, heat-treating, machining, finishing, packaging and distribution in its ISO 9001:2008 and AS9100 registered California facilities."