News
Arizona Auction Week Reworked for 2021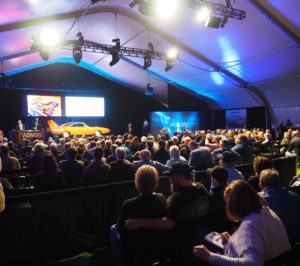 Arizona Auction Week will have a different look next year. In 2020, eight auction companies held classic car auctions in the Phoenix, Arizona area. Between January 10-19, 2020, eight car auction firms – MAG Auctions, Leake, Worldwide Auctioneers, RM Sotheby's, Bonhams, Gooding and Company, Russo and Steele and Barrett-Jackson auctioned 3,867 cars–2,994 of those vehicles being hammered–for a total price of nearly $250 million.
But those firms are adjusting their plans for 2021 in light of the COVID-19 pandemic. Worldwide Auctioneers has scrapped its in-person, one-day auction in Tempe, Arizona, instead moving the event to its Auburn, Indiana headquarters.  Gooding and Company will be an online event only. RM Sotheby's has moved its auction from Phoenix's Biltmore Hotel and will limit attendance to registered buyers and sellers for a one-day event on Jan. 22, 2021. Russo and Steele will host an invitation-only, one-night event on Jan. 23, 2021. Bonhams will host its 10th annual event in Scottsdale for one night on Jan. 21, 2021. MAG Auctions returns to Fort McDowell, Arizona with a three-day event from January 22-24, 2021.
Barrett-Jackson still plans on holding an in-person auction from Jan. 16-23, 2021. The firm held a fall event with limited attendance and sold more than 400 cars for over $23 million. Leake Car Auction has yet to finalize its plans for 2021.