News
API Develops New Oil Standards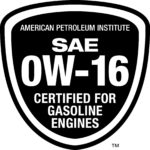 The American Petroleum Institute (API), with the help of vehicle and engine manufacturers and oil marketers, announced they have developed three new oil standards, ILSAC GF-6A, GF-6B and API SP.
The oils were developed over the course of seven years and will be available under API's engine oil program beginning May 1, 2020. Two of the new standards are the latest in a line of steadily more stringent performance specifications.
GF-6A oils are backward compatible with GF-5 oils and older standards and in viscosities as low as 0W-20. GF-6B is for vehicles requiring 0W-16 oils. A third standard that not only includes the new ILSAC specifications but also covers engine oils that are intended for uses not covered by the ILSAC specifications has been approved as API Service Category SP.
The new standards specify more stringent engine oil performance requirements for spark-ignited internal combustion engines. During the development, seven new engine tests were developed, evaluated and measured for precision, and companies ran tests to demonstrate that oils can meet the more stringent requirements. The new tests include a timing chain wear test and a new test for very low-viscosity engine oils. The standards also include a test designed to protect against a phenomenon experienced by some gasoline engines known as low speed pre-ignition (LSPI). The engines used in these news tests are representative of what consumers can find in their vehicles.