News
AP Racing Tapped to Develop Pagani Huayra R Pedal Box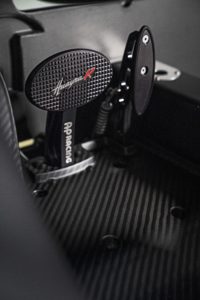 AP Racing, a brake and clutch supplier, has expanded its partnership with Pagani Automobili S.p.A., the Italian hypercar manufacturer, to develop a new pedal box specifically designed for the Huayra R, the company announced.
A long-standing partner of Pagani – having worked on the development of the clutch system for both the Zonda and the Huayra – AP racing has expanded the relationship with the development, testing and now manufacture of a bespoke high specification sliding pedal box for the atelier's latest creation, the company said.
The Huayra R is designed for track use only, features a naturally aspirated V12 that revs to 9000 rpm and generates 850 HP.
To meet the quality, performance and design expectations, AP Racing worked through several design iterations of the pedal box with Pagani's technical team, the company said. With testing now complete, AP Racing is manufacturing the pedal boxes for all 30 production cars and their customer-dedicated accompanying simulators.
"It is always a pleasure to work with AP Racing, a trusted supplier to Pagani since 1999," said Horacio Pagani, founder of Pagani Automobili.  "We had very challenging goals for the Huayra R's pedal box, as it is a key driver input and feedback component – integral to the overall driving experience. The AP Racing team has done an excellent job of minimising weight while also exceeding our expectations for quality and ergonomic design."
"Horacio Pagani and the Pagani Automobili brand are iconic within the automotive world, combining luxury and extreme attention to detail with incredible performance," said David Hamblin, managing director at AP Racing. "We are thrilled to be working with the Pagani team once again, this time providing pedal boxes that meet the quality, performance, feel and aesthetic expectations of Pagani's customers."