News
AP Racing Designs Brake System for NASCAR 24 Hours of Le Mans Entry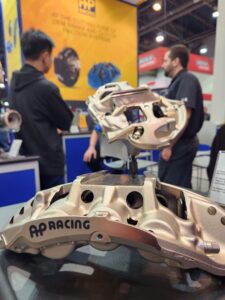 AP Racing has designed a new brake system and will serve as the brake supplier for NASCAR's 24 Hours of Le Mans Garage 56 entry, the company announced.
NASCAR is entering the 24 hours of Le Mans race in June, competing as an experimental Garage 56 entry. It is a joint venture from IMSA, Hendrick Motorsports, Chevrolet and Goodyear.
The Garage 56 entry is a Chevrolet Camaro ZL1, which closely resembles its NASCAR cup series next generation counterpart, but with modifications to meet the requirements of the race, program officials said.
As the exclusive brake supplier to the NASCAR Cup Series, AP Racing were asked to design and manufacture a revised brake system for the 24-hour race. Using a modified version of the standard Radi-CAL caliper as fitted to the cup cars, AP Racing used its experience with Formula 1 and IMSA Carbon/Carbon brake systems to design a bespoke disc and pad combination specifically for this application, the company said.
"The Garage 56 entry doesn't look too different than a normal cup series car, but under the skin there are a lot of changes," said David Hamblin, managing director of AP Racing. "We are proud to have been selected as the exclusive braking supplier for this prestigious Garage 56 entrant in this special centenary year and look forward to seeing our products in action on the track."