News
American Powertrain Expands Electric Power Steering Applications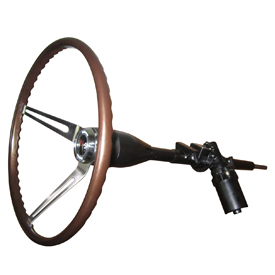 American Powertrain has announced new applications for its bolt-on EZ Electric Power Steering system. The system was introduced several years ago for Ferrari, Jaguar and Porsche model sports cars, and is now offered for classics, early model sports cars, street rods and custom builds.
American Powertrain's EZ Electric Power Steering replaces the top section of a customer's existing steering column with a computer controlled, electric motor-assisted column. The integrated computer senses both torque and speed to adjust steering effort at low or highway speeds, according to the company, and the result is the feel and accuracy of a car with power steering.
The system is ideal for comfortable cruising and parking, as well as serious road racing and auto-crossing, as the system cannot cavitate, slip or stutter no matter how quickly the steering wheel is being moved, according to American Powertrain. With installation, the vehicle retains the original steering wheel, steering box, collar and turn signal indicator for a stock look. A small dial installed under the dash adjusts the power steering level of assist.
The EZ Electric Power Steering system comes with everything needed for installation, including model-specific instructions. The system does not use a power steering pump, hose, belt or power steering fluid, so there is no risk of squeaking and no need to replace fluids, according to American Powertrain.
Complete systems are currently available for 1955-'68 Corvettes, 1965-'70 Mustangs and Cougars, and for street rods and most European sports cars. Systems for the Camaro, Tri-5, Chevelle and other popular models are on the way, according to American Powertrain.
For more information about American Power's EZ Electric Power Steering systems or TREMEC transmission kits for Ford, GM or Mopar, visit Americanpowertrain.com or call 931-646-4836.