News
American Powertrain Debuts 'Save the Stick' Merchandise Line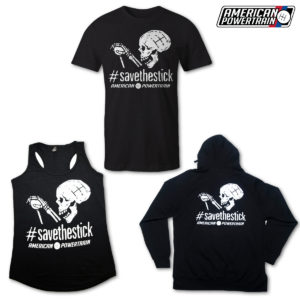 American Powertrain now offers a line of apparel and merchandise reflecting its Save the Stick slogan and branding. The line includes T-shirts, fitted hats, hoodies, bandanas, license plates and banners.
American Powertrain is the manufacturer of ProFit transmission systems and related components for muscle cars, street rods and classic trucks.
First introduced as the #savethestick hashtag, the slogan highlights the slow death of the manual transmission in modern cars, according to American Powertrain.
"It's crazy how this just took off," said Matt Graves, marketing director at American Powertrain. "The skeleton image with the hashtag save the stick just conveys something to our customers. It really goes to the core of what they love about having a stick in a muscle car or classic. Our customers appreciate the fact that they can upgrade to modern overdrive transmission but still get the thrill of driving with a stick…There's just more fun with a stick."
For more information about American Powertrain Save the Stick merchandise or TREMEC transmission kits for Ford, GM or Mopar, visit Americanpowertrain.com or call 931-646-4836.