News
Amelia Island Concours d'Elegance Awards Scholarship Recognizing Roger Penske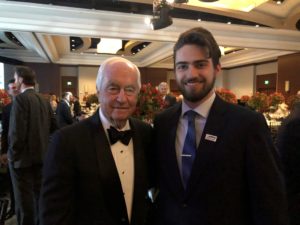 A scholarship recognizing the Amelia Island Concours d'Elegance Silver Anniversary Honoree, Roger Penske, was presented for the first time Saturday, March 7, at the Mercedes-Benz Gala dinner to a McPherson College Automotive Restoration student.
Kevin Boeckman, a junior in the program, was selected for the Amelia Island Concours d'Elegance Roger Penske Scholarship. Amelia Island Concours created the scholarship to recognize its 2020 honoree and to support outstanding students in the field of automotive restoration.
This award recognizes Penske, who won his first national championship in 1961. Sports Illustrated named him 'Driver of the Year,' and he went on to record 51 victories in 130 races during his career as a driver. After retiring from the cockpit, Penske left his mark on the motorsports world with his racing organization, Roger Penske Racing, later known as Team Penske.
Boeckman, who is from Wamego, Kansas, first became interested in cars as a child attending his community's car show. After purchasing his first car, a 1968 Firebird convertible, he realized he wanted to make a career in the collector car industry.
"When it came time to decide what to do after high school, I knew I wanted to focus on learning to work on old cars," Boeckman said. "I thought it was a miracle that there was a program like the one at McPherson College."
McPherson College students have actively engaged in the Amelia Island Concours for the past ten years. Students serve as apprentice judges, attend auction events and seminars, and get the opportunity to network with industry leaders.
"We are honored that the Amelia Island Concours recognizes the importance of educating the next generation of automotive restoration craftsmen with its support of our students," Amanda Gutierrez, vice president of automotive restoration at McPherson College, said. "The Concours is a long-time supporter of our program and this scholarship demonstrates their commitment to engaging young people in the collector car industry."