News
Amazon Alexa Technology Coming to GM Vehicles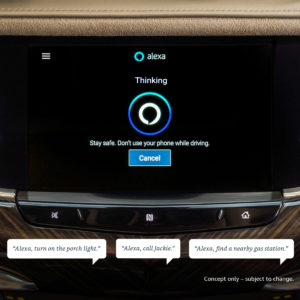 In the first half of 2020, the Amazon Alexa voice system will be added to model year 2018 and newer General Motors cars, trucks and crossovers with compatible infotainment systems.
With the in-vehicle Alexa voice system, customers can use voice commands to help complete tasks in several different categories:
Navigation – Ask Alexa to get directions to a specific address or point of interest, such as a vehicle dealer, or just ask for nearby coffee shops. Alexa seamlessly integrates with compatible, embedded navigation systems in the vehicle or available OnStar Turn-by-Turn navigation using natural language.
Media – Ask Alexa to play a specific song, artist, genre, or station, as well as audiobooks or podcasts. Alexa can fulfill the request by bringing up available streaming services.
Calling – Drivers can ask Alexa to call friends and family using their voice when they pair their phone via Bluetooth and share their contacts with Amazon.
"GM's updateable app framework and vehicle connectivity lets us provide customers with new technologies that enhance the ownership experience, even to customers with vehicles that are already on the road," said Santiago Chamorro, vice president for Global Connected Services, GM.