News
Alpine Now Shipping Halo9 In-Dash System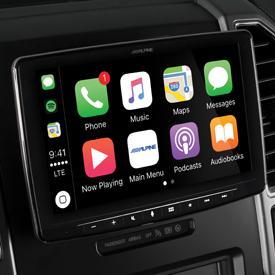 Alpine Electronics of America Inc. is now shipping the new iLX-F309 Alpine Halo9, an in-dash system with a 9-inch touch screen that hovers over the vehicle's dashboard.
"The iLX-F309 uses a new design that's quite different from traditional screen-based systems," said Mike Anderson, vice president and general manager, brand business unit for Alpine Electronics of America. "We're excited to offer this 9-inch screen solution for a wide variety of vehicles without the need for custom installation."
The iLX-F309 is an AM/FM/Digital Media Receiver with a 9-inch WVGA touch screen and mech-less design (no CD/DVD slot). It uses a 1-DIN chassis for installation but the screen hovers over the vehicle's dashboard, allowing the oversize screen to be added to a variety of vehicles without the need for custom installation.
Installation Fitment
The iLX-F309's 9-inch screen is attached to an adjustable mount that is connected to a traditional 1-DIN chassis. The screen hovers over the dashboard and its rear housing tapers at the edges for a thin profile. The screen can be tilted at four pre-set angle points (45 degrees, 20 degrees, 0 degrees, -20 degrees) for better viewing depending on the tilt and height of the dashboard. The screen can also be positioned 20 millimeters (mm) deeper than the default position or lowered 30 mm from the default position to adjust for the distance and height of the dash and to avoid any buttons or other components that may be close by. Once the positions are determined, the screen and mount are fixed to the chassis before installation.
Entertainment Features and System Expansion
The iLX-F309 is suited for smartphone compatibility through Apple CarPlay or Android Auto with the Google Assistant. The iLX-F309 has Bluetooth wireless technology with audio streaming and a built-in HD Radio tuner. It can control Pandora music from a compatible smartphone and is SiriusXM Ready (requires a SiriusXM tuner and subscription, both sold separately).
There also is a USB port for video or audio, an AUX input, and an HDMI input. A second HDMI input can be added via the KCX-630HD HDMI Selector (sold separately). Select factory features are retained and vehicle information is displayed when used with the iDatalink®Maestro® module (sold separately, retained features and vehicle information vary by vehicle).
The iLX-F309 comes with one universal rear camera input, or it can be used with multiple cameras through the KCX-C2600B Multi-Camera Selector (cameras and selector sold separately). Electrical accessories like a light bar or motorized tonneau cover can be controlled by the iLX-F309's touch screen when connected to the KAC-001 External Accessory Controller (sold separately).