News
Alpine Electronics Tech Partnership Already Opening (Garage) Doors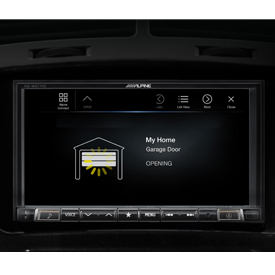 Alpine Electronics of America Inc. has partnered with Chamberlain Group, the manufacturer of Chamberlain and LiftMaster garage door opener brands. Several of Alpine's aftermarket in-dash navigation systems can now control Chamberlain and LiftMaster residential garage door openers, as well as smart lighting controls and other devices, signifying Alpine's launch into the Internet of Things (IOT).
The partnership with Chamberlain Group allows Alpine to offer products that are connected through the IOT by having MyQ controlled through the free Alpine Connect smartphone app. Alpine Connect gathers select apps and optimizes them with a simple, vehicle-friendly interface for use on compatible Alpine navigation systems. Once Alpine Connect is launched on the smartphone, the phone connects to the Alpine navigation system via Bluetooth for Android phones or USB for iPhone. At that point, the content from the apps is fed through the Alpine interface and accessed through the Alpine touch screen.
"Over the past few years, we've increased the capabilities of our Alpine in-dash systems to allow control over other vehicle accessories," said Mike Anderson, vice president and general manager, Alpine Brand Business division. "Our partnership with Chamberlain Group and their MyQ app presents a logical progression for Alpine to now expand into the Internet of Things."
The MyQ app allows users of internet-connected Chamberlain and LiftMaster MyQ-enabled garage door openers to check the status and control their garage door from anywhere with a smartphone or other internet-connected device. The MyQ app can also turn on/off lights and can activate the Home or Away mode on Nest Learning Thermostats.
Owners of select Alpine navigation systems can use MyQ on Alpine Connect to open their garage door as they're approaching their home, turn on the lights so the house is lit when they enter, and activate the Home mode on their Nest Learning Thermostat so the house is at a comfortable temperature when they arrive-all from the Alpine touch screen. Some vehicles, like the Jeep Wrangler, do not have built-in keys to allow programming to a garage door remote control, so MyQ used through Alpine Connect becomes a handy feature for these vehicles.
"We're proud to partner with Alpine to bring the convenience and capabilities of MyQ to their customers," said Jim Trainor, vice president and general manager of automotive for Chamberlain Group. "Alpine users will benefit from the peace of mind that comes with monitoring and controlling home access from the comfort of their vehicle."
The MyQ and Alpine Connect apps are available now on the App Store and Google Play for use in the U.S. and Canada.