News
AllPro Distributing Named AAM Group Member of the Year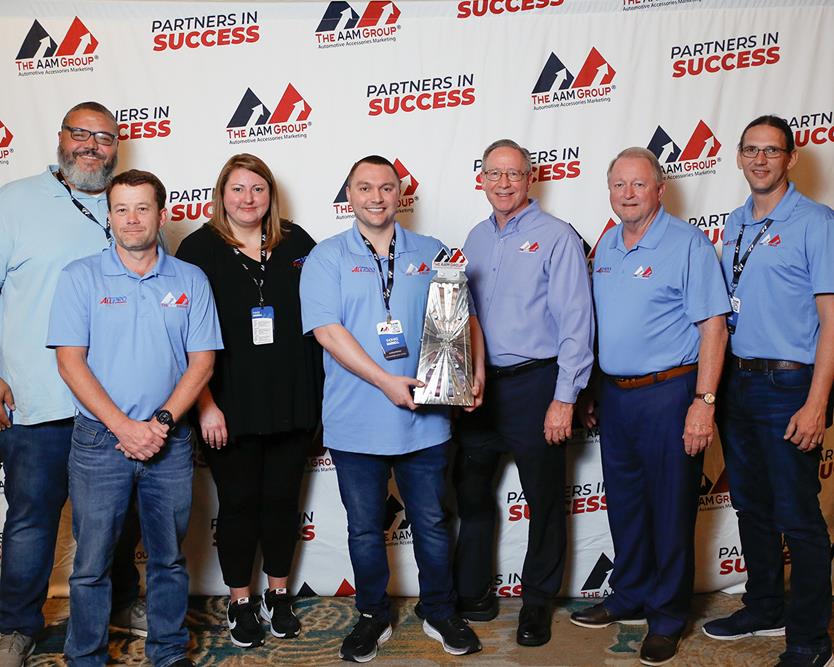 The AAM Group honored AllPro Distributing as its 2023 Member of the Year at the organization's annual Membership Meeting earlier this month, the organization announced.
Each year AAM makes this selection based on five key metrics: active participation, growth as a percentage, marketing participation, participation in group buys, and PRO rebates participation, the group said. In recognition of its win, AllPro Distributing received a custom trophy and an exclusive painting commissioned from automotive artist Jim Caswell.
"We are just so proud of our team," said AllPro Distributing Owner Danny Harrell. "Each employee plays a huge part in our success. They believe in what we are doing at AllPro, and we believe in them. After acquiring Weathers, we had to make a decision about joining AAM. I strongly believe our choice to join has continued to move our company in a really positive direction. Having access to the great team at AAM, the member WDs and suppliers has helped us grow and offer better service to our customers.  We are very honored to receive this award and feel privileged to be a part of this group."
"I love it when a member strives to achieve the Member of the Year honor," said AAM President Tim Odom.  "The AllPro Distributing team made that decision and well-earned this distinction, purposefully engaging in group programs and excelling in the five criteria on which members are scored.  Their performance placed them in the front of a pack of many positive contributors this year."
The AAM meeting also saw awards given to the winners in each of the aforementioned individual categories. Recipients included Alamo Auto Supply and Lordco Auto Parts (Active Participation), overall winner AllPro Distributing (Growth as a Percentage), North Central Distributing (Marketing Participation), Tri-State Enterprises (Participation in Group Buys) and Earl Owen Company (PRO Rebates Participation).