News
ALI Now Offering Digital Version of Vehicle Lifting Point Guide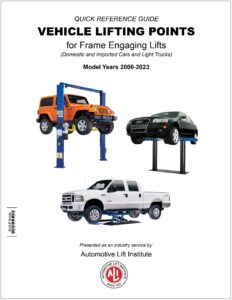 For the first time, the Automotive Lift Institute (ALI) is now offering a digital Lifting Points Guide, Vehicle Lifting Points for Frame Engaging Lifts, that covers cars, SUVs, vans, light-duty trucks and EVs from model years 2000 through 2023, the organization announced.
"Any time you're raising a vehicle for service – whether at home or on the job – there's more riding on that lift than a car or truck. Your safety is riding on it," says R.W. "Bob" O'Gorman, ALI president. "Taking a minute to find the recommended lifting points so you can properly pick up the vehicle could save your life."
The ALI-sponsored Lifting Points Guide is updated annually to reflect the latest vehicles, the organization said, and lifting points are showcased in more than 250 undercarriage images. The new digital version has the same content and layout as the print guide, with the added benefit of always-on access through any device. Each purchase provides online access on up to three devices, with no third-party software required.
Once a copy is purchased, customers can start using it immediately. Customize the view with magnification, choose light or dark mode or go full screen. Find a vehicle quickly using the keyword search function and highlight or make notes as needed.
Click here to get the guide.