News
Alcantara Re-Opens Italian Production Facility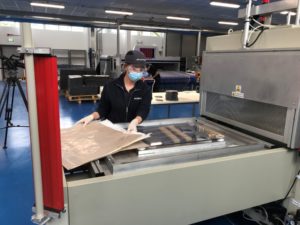 Alcantara is re-opening its Nera Montoro, Italy, production and R&D facilities north of Rome to supply demand for its "Made in Italy" automotive interior material.
Alcantara voluntarily closed the facility, which has 500 employees, in late March in response to the COVID-19 crisis, although it was authorized to stay in production.
"Our decision to close the plant in March was based on a need to guarantee the safety of our employees," said Alcantara Chairman and CEO Andrea Boragno. The facility has since undergone a deep-sanitization process and returning employees are being provided with masks, gloves and goggles as they enter the plant.
Boragno added "It is evident that containment and social distancing measures currently in place will extend well beyond April. We don't know how long the emergency will last, but a complete mid- to long-term shutdown simply would not be viable."
The Alcantara Chairman noted that safety measures developed with trade unions and business associations will be in place for a very long time.
The company currently is implementing serological test programs in cooperation with trade unions and the Umbria Region to quickly identify individuals infected with the virus or who are asymptomatic but still contagious. Suspected cases will undergo swab tests. The new controls will be coupled with the mandatory use of PPE (Personal Protective Equipment), an increase in working distances, periodic deep sanitization of work areas and daily employee temperature checks.
A triage area has been set up outside the entrance to the plant where employees will receive a check-up when arriving at work or after finishing their shift. The employees will have their temperatures measured with a thermal scanner while in their cars. After signing a voluntary disclosure, consent and self-certification form, they also will receive a finger-tip blood test with results available within five minutes. All data will be shared with the USL (local health center) and will help to form the basis for an epidemiological survey. Alcantara is one of the first companies in Italy to adopt voluntary anti-virus tests and procedures on top of those already prescribed by law.
Boragno added that Alcantara has developed various prototype face masks currently under review by government authorities for mass production at the Nera Montoro plant. The company's trademarked material is light weight and its benefits include durability, grip and breathability.