News
AkzoNobel's Carbeat Bodyshop Workflow System Gets Patent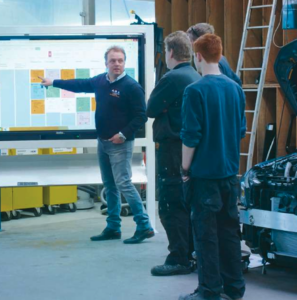 Carbeat, AkzoNobel's digital bodyshop workflow control solution that enables automotive body repair shops to track their work in production has been awarded an industry patent. The U.S. Patent Office found the Carbeat system inventive based on several features, including its use of drag-and-drop functionality that also helps determine the durations of specific repair jobs and its identification and use of trend data for more efficient body shop planning.
AkzoNobel's Vehicle Refinishes business launched Carbeat in 2017. Through the system, managers, team leaders, technicians and third parties can follow vehicle repair status information with real-time overviews.
"We are very happy our software fulfills the strict requirements for this patent, and this shows how beneficial our Carbeat application is to our customers," says Mike Sillay, Product Manager Services, Akzo Nobel. "Technology is playing a growing role in our industry. Our mission is to help collision repair professionals save time and money, and we are proud of the system our team has created to help achieve that."
The application runs from the cloud and utilizes a touch screen monitor. Operators can drag and drop tiles to monitor a vehicle's repair status, filter information by insurer, estimator and technician and more. Reports identify process efficiency through cycle time data, which, the company says, gives insight into ways to improve efficiency and eliminate waste.
New features of Carbeat include WalkMe – an interactive embedded tutorial to help teams adopt Carbeat faster, and compliance with new data privacy legislation.
To experience Carbeat live, visit AkzoNobel at the SEMA Show in Las Vegas from Nov. 5 – 8, 2019, at booth 25163 and rig 61014.