News
Akrapovič Porsche Cayman GT4 Slip-On Race Line Exhaust Added to Turn 14 Distribution Line Card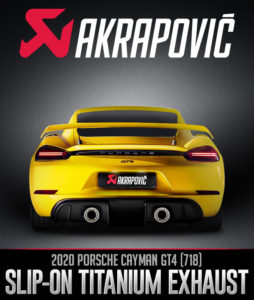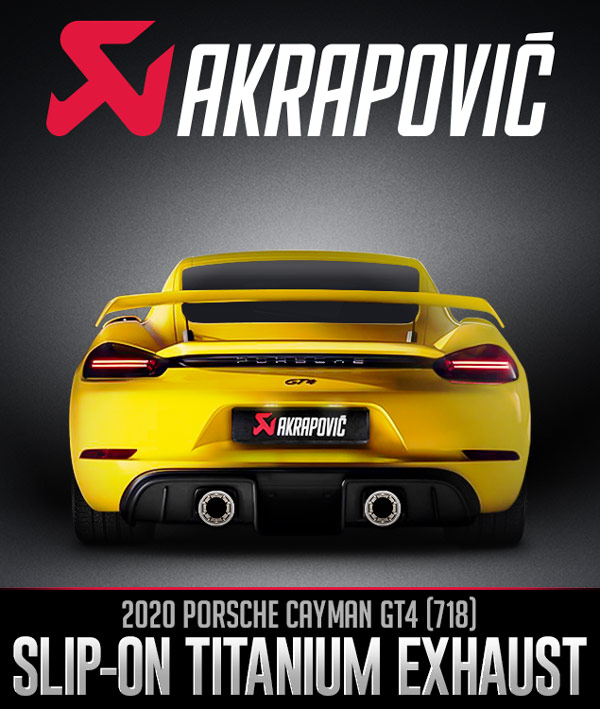 Akrapovič has released its 2020 Porsche Cayman GT4 (718) Slip-On Race Line exhaust and Link Pipes, which can now be found at Turn 14 Distribution, the sole U.S. automotive distributor for Akrapovič.
The system is constructed from lightweight high-grade titanium, made in Akrapovič's in-house foundry to create a perfect fit within the limited space available, the three mufflers – one per side and one central – are configured and engineered by Akrapovič technicians. Akrapovič offers a choice between two different sets of round titanium tailpipes, sandblasted and coated and available in natural titanium or black finish. The tailpipes' inner side features a dynamic relief surface for increased aesthetic value, and an engraved logotype adds to the exhaust's visual presence.
Optionally, the Slip-On Race system can be combined with the Link Pipe Set (Titanium), for performance gains of 15.6 more horsepower at 2600 rpm, 31.7 more lb-ft of torque at 2600 rpm, and a 68.1% reduction in the exhaust system's weight, the company says. The addition of link pipes will require remapping the ECU. An optional carbon-fiber diffuser can be added to emphasize the Akrapovič exhaust tailpipes' design in a matte or high gloss finish. For more control over the exhaust system's sound, the optional Akrapovič Sound Kit is available to control the exhaust valves at any time and allow the driver to choose their preferred sound setting.
Both the Slip-On Race Line exhaust and Link Pipes are designed for the race track and do not meet emission compliance requirements for street or highway use.