News
Akrapovič Porsche 911 Turbo Slip-On Race Line Titanium Exhaust Available at Turn 14 Distribution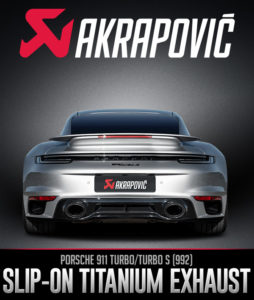 The Akrapovič Porsche 911 Turbo/Turbo S (992) Slip-On Race Line (Titanium) exhaust system is now available at Turn 14 Distribution, the sole U.S. Automotive Distributor for Akrapovič, the distributor announced.
Crafted with in-house developed titanium cast parts, the system delivers a powerful mid-range tone that develops into a rich, strong and high-frequency acoustic sensation at higher RPMs, the company said. This high-frequency sound is achieved with an H-link between main pipes, which is welded at a specific position.
Power and torque delivery are improved with a 22.5-horsepower increase and 34.5 lb-ft maximum torque increase at 3,400 rpm. The tuned torque curve offers a better response from low RPM ranges, and exhaust gas flow is greatly improved with more than a 39% reduction in backpressure, the company said. The Slip-On Race Line system weighs 10.1 lbs., providing 62.9% in weight savings compared to the stock exhaust system. The product is designed to replace the Porsche sport exhaust system.
The system is finished with a choice between two different sets of round titanium tailpipes, sandblasted and coated, and available in natural titanium or black finish. The inner side of the tailpipes features a dynamic relief surface.