News
Akrapovič Mercedes-AMG GLE 63 Evolution Line Titanium Exhaust Now Available at Turn 14 Distribution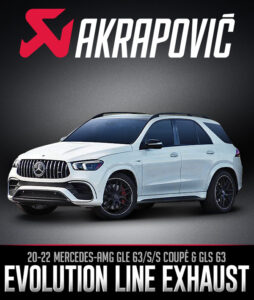 Akrapovič has released its Mercedes-AMG GLE 63/GLE 63 S/GLE 63 S COUPÉ (W167 / C293) and GLS 63 (X167) Evolution Line (Titanium) exhaust systems, which are now available at Turn 14 Distribution, the sole U.S. automotive distributor for Akrapovič.
These exhaust systems boast three exhaust valves operated by a specially developed control kit: one on either side of the muffler and one in the active X-connection in the link pipe. The housings for the valves, the X-connection, and the reinforcement – or central pillar – of the tailpipes are all cast in the in-house foundry. As a result, this exhaust produces a pure and deep, distinctive tone, with a full-bodied sound at idle and a well-defined and strong burble as the revs rise, leading to a high-frequency sound full of sporty character at higher rpms, Akrapovič said.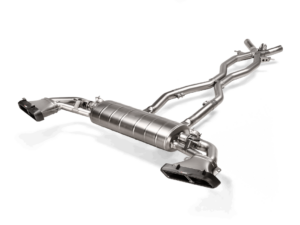 These products are made from high-quality lightweight titanium for a weight saving of 34.2% over the AMG Performance exhaust systems. The fully sandblasted exterior is completed with a new tailpipe design constructed from hand-crafted carbon fiber with a titanium inner sleeve. The system delivers a power increase of 8.6 hp at 2,800 rpm and a torque gain of 15.7 lb-ft at 2,800 rpm. These figures were measured on the Akrapovič dyno when tested against a Mercedes-AMG GLE 63 S Coupé with an AMG Performance exhaust system.