News
Akrapovič Mercedes-AMG CLA 35 Slip-On Line Exhaust Now Available at Turn 14 Distribution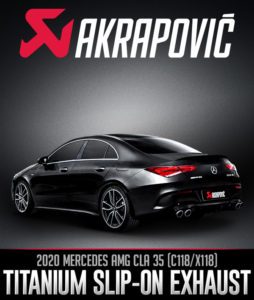 The Akrapovič Mercedes-AMG CLA 35 Slip-On Line (Titanium) exhaust for 2019-2020 models is now available at Turn 14 Distribution, the sole U.S. automotive distributor for Akrapovič announced.
This lightweight exhaust is crafted from high-grade titanium and is finished with two pairs of titanium and carbon fiber tailpipes.
A specially designed perforated manifold tube on the valve side eliminates streaming without any compromise to the pressure pulse distribution. Lighter than stock due to the use of titanium and a different configuration, the design and construction of the exhaust system leads to optimization in the power and torque levels throughout the entire rev range, the company says, and a weight savings of 10.4 pounds is realized with the installation of this system. Performance is increased by 5.2 horsepower at 5,100 rpm and 4.9 lb-ft of torque, also achieved at 5,100 rpm.
The stock exhaust system must be cut to install the Slip-On system.