News
Akrapovič Mercedes-AMG A 45, CLA 45 Evolution Line Exhaust Available at Turn 14 Distribution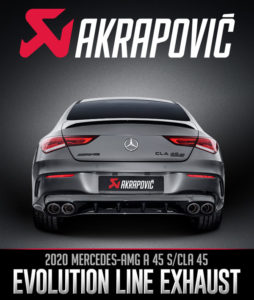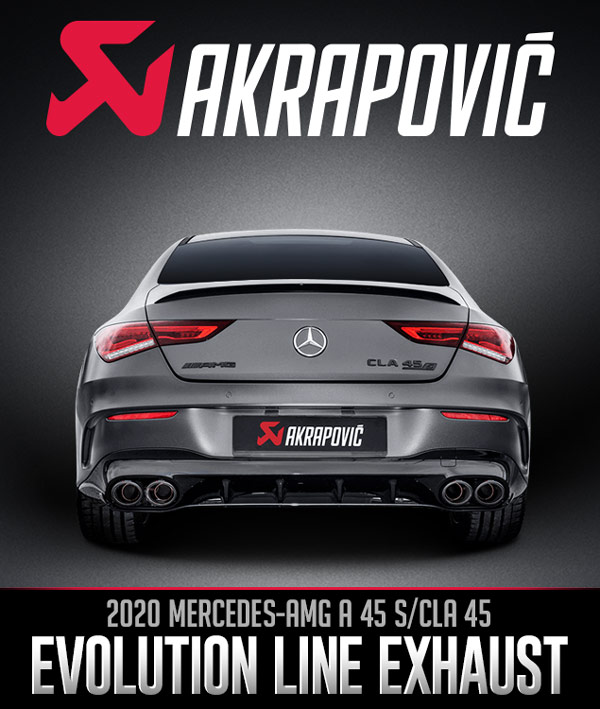 Akrapovič has released its Mercedes-AMG A 45 / A 45 S and CLA 45 / CLA 45 S Evolution Line (Titanium) exhaust for 2020 models, which is now available at Turn 14 Distribution, the sole U.S. automotive distributor for Akrapovič.
This lightweight exhaust is crafted from high-grade titanium and is finished with two pairs of titanium and carbon-fiber tailpipes. The exhaust valve, with its housing cast in the in-house Akrapovič foundry, enables the driver to select the sportiness level through the AMG Dynamic Select system within the vehicle.
This system is lighter than stock due to titanium and a different configuration providing weight savings of 21.2 pounds with this system's installation. The exhaust system's design and construction lead to optimization in the power and torque levels throughout the entire rev range, the company says, with performance increases of 8.6 horsepower at 6,400 rpm and 6.7 lb-ft of torque at 6,700 rpm.
This system is compliant with the requirements of the Air Resources Board of the California Environmental Protection Agency. Products marked as CARB compliant are considered replacement parts under CARB regulations.