News
Akrapovič Evolution Line Titanium Exhaust for Porsche Cayenne Coupe, Turbo Now Available at Turn 14 Distribution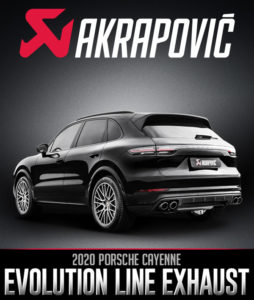 Akrapovič has released its Porsche Cayenne/Coupe (536) Evolution Line (Titanium) exhaust, as well as its Porsche Cayenne Turbo/Coupe and Cayenne Turbo S E-Hybrid Evolution Line (Titanium) exhaust for 2020 models, both of which can now be found at Turn 14 Distribution, the sole U.S. automotive distributor for Akrapovič.
The exhausts are constructed from high-grade lightweight titanium. Both feature a central muffler that expands to produce two sets of tailpipes, with a choice of either a titanium or carbon fiber finish. Two valves on either side of the muffler control the airflow. These valves are contained in valve housings cast in the Akrapovič in-house foundry.
The Evolution Line (Titanium) reduces overall vehicle weight while providing extra power and torque through the whole RPM band, the company says.
Installation is plug-and-play with no need to remap the ECU, and the Evolution Line (Titanium) also adds increased performance. Test gains achieved by the Akrapovič technicians in controlled conditions show both power and torque gains over the Porsche sport exhaust system of +10.9 hp at 5,600 rpm and +12.2 lb-ft at 2,400 rpm for the Cayenne Turbo. The Cayenne Turbo S E-Hybrid gains 15.4 hp at 3,150 rpm and 25.8 lb-ft of torque at 3,100 rpm.
An optional Akrapovič Sound Kit is available, which will increase the auditory experience at lower revs and further supplement the sound as the revs rise, adding a thrill to the launch of the car from a standstill.
The stock exhaust system must be cut to install the Evolution Line (Titanium) exhaust on the Coupe.