News
Akrapovič Corvette C8 Stingray Slip-On Line Exhaust System Now Available at Turn 14 Distribution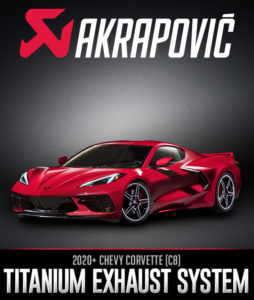 Akrapovič has released its Chevrolet Corvette Stingray (C8) Slip-On Line (Titanium) exhaust system, which can be found at Turn 14 Distribution, the sole U.S. automotive distributor for Akrapovič, the company announced.
This exhaust has been designed to deliver performance, exhilarating sound and driving enjoyment, the company said. Two sets of square titanium tailpipes with a black interior are coated for better durability and scratch resistance and relay the sound from the system. The exhaust is tailored to control the gas flow from the engine, the company said. The two tubes that connect the left and right sides of the system have different diameters to increase the system's stiffness and enhance the overall sound experience. In addition, the tubes are fully insulated to prevent any excess heat from affecting other parts of the car.
Constructed from high-grade, lightweight titanium, the Slip-On Line weighs just 37.8 lbs, more than 47% lighter than the stock sport exhaust. With precise throttle response, the system provides a power increase of 4.6 hp at 5,250 rpm, and a torque gain of 6.0 lb-ft at 3,100 rpm, the company said. The numbers were gathered from testing on the Akrapovič dyno against a Corvette Stingray with a stock sport exhaust system.